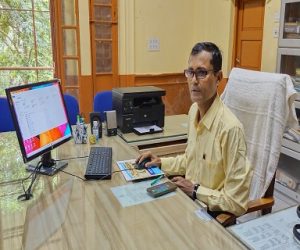 "All of the top achievers are life-long learners; looking for new skills, insights, and ideas. If they're not learning, they're not growing and not moving toward excellence."
I welcome you to Hooghly Mohsin College with pride. It is an honour and a privilege to be the Principal of Hooghly Mohsin College, the college that stands for excellence and continuously sets the standard high. This college is an alma mater to which all alumni look back with fond memories. Over its long journey as an esteemed academic citadel, this college has given the country many distinguished personalities and leaders in diverse fields.
We feel happy to provide quality education by equipping our students with skills, confidence and a positive approach with an all round development. The college is relentlessly striving to perceive and maintain academic excellence. At the same time, it encourages the students to participate in various co-curricular and extra-curricular activities.
An amiable environment in Hooghly Mohsin College nurtures creativity, passion, resilience and leadership qualities among students for a comprehensive and holistic development.
We value collaborative learning and strongly believe in the importance of teachers, parents and administrators collaborating and communicating to improve the quality of education. Our students are encouraged to engage in the world of a progressive tomorrow with expected skills and attributes. My very competent team of teachers and staff strive to focus on each and every child, nurture them and appreciate their achievement in all spheres.
Empowered with a strong sense of well being, we are confident that our students will emerge as responsible global leaders and citizens with strong moral, ethical and social values.
I wish you the very best.
Dr. Purushottam Pramanik
Principal